Date: 5/12/17
Source: Metro Weekly
Written By: John Riley
Equality Virginia has launched a new program enlisting support from the commonwealth's business community as the organization attempts to amend Virginia's laws to prohibit discrimination against LGBTQ people in all aspects of life, including employment.
Holding its launch at Capital One headquarters in McLean, the program, known as "Virginia Competes," will engage corporate America to advocate for LGBTQ-inclusive laws and policies in the commonwealth. So far, seven companies have joined the coalition, which will speak with a unified voice in support Equality Virginia's legislative priorities. All seven corporations — Capitol One, Carmax, Genworth, Hunton & Williams, LeClairRyan, Northrup Gruman, and Williams Mullen –currently have policies in place that are considered LGBTQ-friendly.
"We believe that in order for Virginia businesses to compete for top talent, we must have workplaces and communities that are diverse and welcoming for lesbian, gay, bisexual, and transgender people. We believe that treating all Virginians and visitors fairly is essential to maintain Virginia's strong brand as the premiere home for talented workers, growing businesses, entrepreneurial innovation, and a thriving travel and tourism industry," reads a statement signed by all seven coalition members.
Equality Virginia executive director James Parrish says he hopes to grow the coalition in the coming weeks and months.
"These participating companies are the standard bearers for treating their gay and transgender employees and customers fairly, and they recognize the need for a climate of inclusivity on the corporate campus, even if those rights are not extended to all citizens of the commonwealth," Parrish said in a statement.
"The companies who have signed this statement know that treating people equally, regardless of their sexual orientation or gender identity, is not only good for the welfare and morale of employees, it's also good for business and good for Virginia."
Virginia currently has no laws prohibiting discrimination against LGBTQ people in employment, housing or public accommodations. Individual cities and counties have adopted policies that are symbolic, but do not carry the full weight of law due to Dillon's Rule, which prohibits localities from extending such protection to additional groups not recognized by the commonwealth's Republican-dominated General Assembly.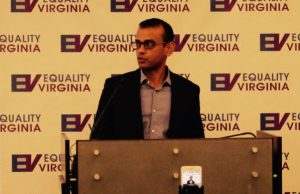 Democrats and a handful of pro-LGBTQ Republicans in the General Assembly have proposed various nondiscrimination bills for years, but such measures are either shuffled off to the Code Commission for "further study," or are killed in subcommittees on unrecorded votes, usually along party lines.
Some LGBTQ advocates hope that, this year, if Democrats are able to gain anywhere between 10 to 17 House seats (with 17, they would gain majority control over the House of Delegates) in the upcoming November elections, it will either give them a working majority that will pass such bills outright, or place pressure on vulnerable Republicans by subjecting their anti-LGBTQ voting records to greater scrutiny.
"We treat our workplace as a collection of unique perspectives where associates have a voice, can contribute and be their best selves," Andy Ramamoorthy, the executive vice president of commercial banking at Capital One and head of the company's Out Front LGBTQ Business Resource Group, said in a statement. "New ideas, approaches and innovative solutions are enabled when associates feel welcome in an open and transparent culture where everyone is understood, valued and respected."
"At Hunton & Williams LLP, we know that a diverse and inclusive workforce helps drive our success," added Watson Seaman, a partner at law firm Hunton & Williams and the company's LGBT Task Force Chair. "We also have no doubt that the same holds true for the Commonwealth of Virginia. Our state's continued economic health and growth — its very success — is dependent on making sure our businesses and our communities are welcoming of all people."
For more information on "Virginia Competes," visit virginiafairness.org/virginiacompetes.
Date: 1/30/15
Source: GAYRVA
Written By: Tyler Hammel
Local LGBT business leaders  and advocates met at Nacho Mama's in Carytown to announce the new "Equality Means Business," initiative – a program which aims to give small business in several states the chance to show their support for the LGBTQ community.
The proposed initiative unites three southern LGBT advocacy groups from South Carolina, North Carolina, and Virginia.
Press and patron alike were invited to meet with members of Equality Virginia (EV) and the Richmond Business Association (RBA) to discuss the multistage initiative and how it plans to showcase businesses that understand how important LGBT customers and employees are to their success.
"We are excited to be part of this effort to highlight LBGT-friendly businesses, who make up one of the Richmond Business Alliance's core constituencies," said Bary Hausrath, president of the RBA, Richmond's local LGBTQ Chamber of Commerce. "The realization that business interests are at stake in discussions of LGBT equality can be powerful. This effort helps to deliver that message."
With the way the economy currently is, more and more businesses are realizing the benefits of fostering an LGBT-inclsuive client base. The "Equality Means Business" initiative plans on highlighting businesses with policies that protect LGBT employees and improve each state's reputation.
"In North Carolina, South Carolina, and Virginia, from the historic cobblestone streets of Alexandria, to the financial districts of Charlotte, to the bustling waterfront of Charleston, we've witnessed businesses taking the lead in this historic moment for LGBT equality," said James Parrish, Executive Director of EV. "Through Equality Means Business, we are proud to highlight businesses that have commonsense policies in place to ensure their doors are open to LGBT clients, customers, and employees."
"When you open a business, that business must be open to everybody – that's the bottom line," said Raul Cantu, owner of Nacho Mamas. "I believe in equality, and I welcome all people at my business."
Any business that has an Equal Employment Opportunity policy that includes sexual orientation and gender identity and signs a a public accommodations pledge to guarantee LGBT customers and clients will not be denied services because of their sexual orientation or gender identity can join Equality Means Business.
Equality Virginia will provide an online directory of these businesses.   Interested businesses can learn more at www.equalityvirignia.org/emb.
Date: 1/30/15
Source: AltDaily
Written By: Kirsten Bokenkamp
Virginia has no laws to protect lesbian, gay, bisexual, and transgender Virginians from facing workplace discrimination or to ensure that Virginia's businesses are open to LGBT clients and customers. But, through a new campaign, fair-minded business owners in Virginia, North Carolina, and South Carolina can now be recognized for their non-discrimination policies.
On Thursday, January 29th, three southern LGBT advocacy organizations (Equality Virginia, Equality North Carolina, and South Carolina Equality) launched "Equality Means Business," a coordinated, multistate campaign designed to showcase businesses that know how vital LGBT employees and customers are to their success in a modern economy. Decorum Furniture and The Palace Station and Shops in Norfolk were one of the businesses to hold a launch event on Thursday.
"The management of Decorum Furniture and the Palace Shops & Station are proud to welcome all employees and guests regardless of sexual orientation or gender identity," said Claus Ihlemann, owner of Decorum Furniture. "Embracing diversity is essential in today's environment, and frankly, it just makes good business sense. We are honored to be part of this important multi-state Equality Means Business launch."
In today's economy, the majority of businesses know that opening their doors to LGBT clients and customers as well as ensuring their LGBT employees are not discriminated against is not only the right thing to do, but is also good for business. With the goals of improving each state's reputation as a welcoming place to live, work, and visit – as well as improving the lives of the more than 500,000 LGBT people who call these states home – Equality Means Business recognizes businesses that have policies to protect their LGBT employees from discrimination and have also pledged to welcome LGBT customers and clients.
"With no laws in place in North Carolina, South Carolina, or Virginia to prohibit discrimination in employment or public accommodations based on sexual orientation or gender identity, this program is a great way for us to highlight businesses that believe in non-discrimination," said Equality Virginia's James Parrish. "Businesses that welcome LGBT customers and clients and take a stand for workplace non-discrimination deserve to be recognized for moving Virginia, the region, and indeed the whole country in the right direction."
Also on Thursday, Equality Virginia was at the General Assembly lobbying for HB 1643, a bill introduced by Delegate Ron Villanueva, that would have protected LGBT public employees from workplace discrimination; and against HB 1414, a bill introduced by Delegate Bob Marshall that would have allowed any business or professional to discriminate against LGBT people. Neither bill made it out of committee.
"At this particular time in history, its crucially important to highlight businesses that are doing the right thing. While we were heartened to see the discriminatory HB 1414 fail committee, we can't count on the anti-LGBT leadership in the House of Delegates to pass legislation that would protect LGBT employees," said Parrish. "Even as we run into a brick wall in the House of Delegates, businesses throughout the region are taking a stand for what they know to be right."
Equality Means Business not only highlights businesses committed to non-discrimination, but is also a tool for consumers to use if they want to ensure their patronage is supporting a business – or any place of public accommodation – that is welcoming to LGBT people. As part of the coordinated launch, events were held at local businesses on Thursday in Raleigh, Charlotte, Columbia, Richmond, and Norfolk.
Hampton Roads Business OutReach (HRBOR), a coalition of LGBT owned and LGBT supportive businesses in the area, supports the campaign.
"We are 100% behind this tri-state initiative," said Carl Johansen, President of HRBOR. "The buying power of the US LGBT adult population is estimated at over $830 billion, according to updated analysis by Witeck Communications. It just makes good sense, good business sense."
For more information about Equality Virginia's program, or how your business can become accredited visit here. For more information about Equality NC's program, visit here. For more information about SC Equality's program, visit here.
Date: 1/27/15
Source: Washington Blade
Written By: Michael K. Lavers
Equality Virginia, Equality North Carolina and South Carolina Equality on Thursday will officially launch the "Equality Means Business" campaign at businesses in Richmond and Norfolk, Va., Raleigh and Charlotte, N.C. and Columbia, S.C.
"In North Carolina, South Carolina and Virginia, from the historic cobblestone streets of Alexandria, to the financial districts of Charlotte, to the bustling waterfront of Charleston, we've witnessed businesses taking the lead in this historic moment for LGBT equality," said Equality Virginia, Equality North Carolina and South Carolina Equality in a joint statement the Washington Blade obtained. "Through Equality Means Business, we are proud to highlight businesses that have commonsense policies in place to ensure their doors are open to LGBT clients, customers and employees. Equality Means Business is also a tool for consumers to use if they want to ensure their patronage is supporting a business — or any place of public accommodation — that is welcoming to LGBT people."
No LGBT-specific protection in states despite marriage
The three groups are launching the campaign less than four months after the U.S. Supreme Court declined to hear a case that challenged Virginia's same-sex marriage ban, which allowed gays and lesbians to legally marry in Virginia and the Carolinas.
Virginia state Del. Bob Marshall last month introduced a bill that would allow licensed or accredited business owners in the commonwealth to deny service to someone based on their religious beliefs.
A measure currently before the South Carolina Senate would allow a clerk or any other judicial employee who is authorized to issue a marriage license to refuse to grant one to a same-sex couple based on their religious beliefs. A second bill in the state House of Representatives would prohibit the use of public funds or government salaries to fund advocacy efforts in support of nuptials for gays and lesbians and enforce marriage licenses issued to same-sex couples.
A so-called "conscience clause" bill is also before North Carolina lawmakers.
Virginia Gov. Terry McAuliffe last January on the same day he took office issued an executive order banning anti-LGBT discrimination against state employees.
Virginia, North Carolina and South Carolina do not include sexual orientation or gender identity and expression in their anti-discrimination laws. The three states also lack hate crimes statutes that specifically include LGBT-specific protections.
James Parrish, executive director of Equality Virginia, on Tuesday highlighted the lack of workplace protections for LGBT Virginians as he discussed the new campaign with the Blade. He also noted a Williams Institute study that indicates more than half a million LGBT people live in Virginia, North Carolina and South Carolina.
"This is taking it a step forward," Parrish told the Blade while discussing the campaign. "It is also about equality means businesses on Main Street. We think that is an important distinction to start making."
Chris Sgro, executive director of Equality North Carolina, made a similar point.
"Having a common program from the Low Country of South Carolina, to the Outer Banks of North Carolina and through the Tidewater of Virginia will bring a unified voice for our entire region's fair-minded business community as they say 'we are open for business to all,'" he said.
"Equality is good for business, and businesses that support equality have a tremendous impact on the landscape of South Carolina," added Jeff Ayers, interim executive director of South Carolina Equality. "By being inclusive in their policies, protecting their employees from discrimination, and providing quality goods and services to all customers, these businesses make South Carolina a better place to live and work. They're growing our state and showing our communities and neighbors that equal means everyone."
Posted: 1/9/2015
Source: GAYRVA
Written by: Victoria Zawitkowski
There is currently no federal or state law prohibiting discrimination in the workplace based on sexual orientation or gender identity.
The Virginia Fairness Accreditation is a project from Equality Virginia that includes an Accredited Companies program and the Equality Means Business program.  The Equality Means Business program will launch at the end of this month. The five companies awarded at the reception are now a part of the Accredited Companies program.
Altria, Capital One, CarMax, Dominion, and Genworth received the Virginia Fairness Accreditation for supporting the LGBT community within their company and its employees by providing workplace protections and benefits for LGBTQ employees and their spouses.
Gov. McAuliffe's first executive order banned discrimination in the state work force.
"My job as governor is to create the new Virginia economy," Gov. McAuliffe said. "We face head winds. We have a lot of issues as you know with sequestration. We've got to create jobs. We cannot do it if we put walls up. We cannot pick and choose who or what businesses we want. I want everyone in Virginia."
Capital One hosted the event at which they were also being honored.
"When I joined Capital One I wasn't out. I wasn't out to a lot of people. I definitely wasn't out at work," said Andy Ramamoorthy, Senior Vice President head of commercial client services and executive sponsor of the LGBT network at Capital One.
He said he actually came out while working for Cap One, and he was grateful for the steps they took to make sure he was comfortable in his job.
"One of the things that really made me feel comfortable to make that decision was the environment, and the culture, and the values that the company promoted," said Ramamoorthy (pictured below). "[They] made me feel really safe to be able to have that conversation with my manager."
"All of the companies here tonight are leading Virginia forward," said James Parrish, executive director of Equality Virginia, who said the accreditation was created to honor companies which took this steps to support diversity despite state and federal law.
Parrish applauded the companies for valuing "inclusion and have policies in place that ensure LGBT employees will not be discriminated against simply because of who they are."
In an Equality Virginia press release, the five Fortune 500 companies highlighted their approach to making LGBTQ employees feel included.
Dominion said encouraging LGBTQ employees to be part of their company is better for business.
"At Dominion, we want to attract and retain the best employees," said Shannon Venable, vice president-Staffing & Diversity. "I think this recognition demonstrates that Dominion is committed to providing a respectful and inclusive work environment for all of its employees – which is fundamental to attracting and retaining the best."
Altria, Capital One, CarMax, Dominion, and Genworth are the first companies to receive this accreditation.
"I am just so refreshed to stand here one year later after all the nonsense that went on the year before I became governor and to think what we have today folks," Gov. McAuliffe said. "There's not a business in the globe that we cannot recruit. All I'm asking is to follow what most Fortune 500 companies have in their own guidelines.  So this really is historic. "
Posted: Monday, 10/06/14
Source: The Washington Post
Written by: Patrick Egan
With the Supreme Court's refusal earlier Monday to hear a series of cases on same-sex marriage, the movement for LGBT rights in the United States has taken a completely unexpected turn: Gay people can now get legally married in more states than where they are legally protected from job discrimination.  As this map shows, there are now five states — Indiana, Oklahoma, Pennsylvania, Utah, and Virginia — where gay people can get legally married and where it is perfectly legal for an employer to fire someone for being gay.
It's a circumstance that's remarkably out of line with public opinion.  Almost all Americans support employment rights for gay people.  (For example, Gallup stopped asking its regular survey question on this topic once support hit 89 percent in 2008.)  But such unanimity in attitudes — if it ever arrives — still lies in the distant future on the question of same-sex marriage, where those in favor of legalizing gay marriage currently make up about 55 percent of the American population.
So why have advances in marriage equality leaped ahead of employment discrimination protections for gay people?  The answer lies in the differences between marriage law and employment law, and the sharply different stances that the two parties have taken on gay rights.
Gay people can't look to the courts for help on employment discrimination.  The Constitution limits the extent to which the government can discriminate against different groups — including in its administration of marriage.  But protection from discrimination by private employers can only happen through enacted laws.  The Civil Rights Act of 1964 and subsequent federal laws prohibit employment discrimination on the basis of race, national origin, sex, religion, age, and disability. But no law at the national level forbids job bias on the basis of sexual orientation.
To ask activists why no such federal law exists for gay people is to bring up a sore subject.  The last big opportunity to pass such a law came after the 2008 elections, which gave Democrats unified control of the federal government for the first time in 15 years.  Work began in earnest on the Employment Non-Discrimination Act, or ENDA, a long-languishing job-protection bill which almost certainly would have passed had it reached the floors of the House and Senate.  But LGBT activists refused to support the law because it did not also extend protections on the basis of gender identity, while the bill's prime champion in Congress — openly-gay Rep. Barney Frank (D-Mass.) — claimed it would fail to pass if it included such protections.  The internecine fight was never resolved, and ENDA died in committee.
The chances that ENDA will be passed by a Congress controlled by Republicans any time soon are virtually zero.  That's because Republican elected officials have few incentives to do so.  Social conservatives oppose such laws, and they continue to make up an important part of the G.O.P. coalition.  By contrast (as I've found in my research), gay people are much more liberal than the general population on a range of issues and they are far from single-issue voters.  Thus Republican candidates who support gay rights gain little in the way of either votes or campaign contributions from gay Americans.
This means that in the near future, job bias protections for gay people will advance only on a state-by-state basis — and it will generally happen only in places where Democrats control state governments.  As political scientists Jeffrey Lax and Justin Phillips have shown, state laws on gay rights are particularly unresponsive to public opinion.  A primary reason for this is that Republican-controlled state legislatures almost never pass laws prohibiting anti-gay job bias: by my count, only one (New Hampshire in 1997) has ever done so.
That leaves those hoping for the extension of employment protections to gay people with little hope in the short term.  Of the 29 states that do not have laws prohibiting employment discrimination on the basis of sexual orientation, all but one — West Virginia — has a state legislature either partially or completely controlled by Republicans.  If (as expected) courts continue to expand marriage equality to additional states, more and more gay people in these states will find themselves in a most peculiar conundrum: they can get legally married to someone of the same sex, and legally fired for doing so.
Posted: Sunday, 08/17/14
Source: The Tampa Tribune
Written by: Nadine Smith
"Equality means business."
It was the answer a Florida business leader gave me to explain why his company was updating its non-discrimination policies and looking to shift the corporate culture to attract greater diversity.
I'd been invited to a training at their corporate headquarters and was curious about what the motivation was to add LGBT protections and expand their diversity program. They were losing key prospects and noticed that highly sought after, talented young applicants were breaking at the last minute for their less-resourced competitor.
He and other leaders in his company came to the same conclusion that businesses around the country and the state overwhelmingly have: Smart, talented people go to places that allow them to be themselves and where diverse perspectives can fire innovation.
Every company on Fortune magazine's list of the "100 Best Companies to Work For" includes sexual orientation in their nondiscrimination policy. More than half of these companies have now added gender identity.
Economist Richard Florida's research revealed a strong correlation between economically thriving cities and the existence of strong, inclusive anti-discrimination policies.
"Members of the creative class — the 40 million workers, a third of the American workforce — the scientists and engineers, innovator and entrepreneurs, researchers and academics, architects and designers, artists, entertainers and media types and professionals in business, management, health care and law who power economic growth — place a huge premium on diversity. In fact, they use it as a proxy to determine whether a city will provide a welcoming and stimulating environment for them," wrote Florida.
In 2008, the Knight Foundation and Gallup dug deeper into the topic of diversity and talent in their groundbreaking study "The Soul of the Community." After interviewing close to 43,000 people in 26 communities over three years, the study found that three main qualities attach people to place: social offerings, such as entertainment venues and places to meet; openness (how welcoming a place is); and the area's aesthetics (its physical beauty and green spaces).
Researchers learned the communities with highest levels of resident attachment — a person's passion for where he or she lives — also had the highest rates of GDP growth over time.
Equality Means Business is now a project of Equality Florida Institute with the goal of improving Florida's national and international reputation as a welcoming and inclusive state to live, work and visit.
"The study provides empirical evidence that the drivers that create emotional bonds between people and their community are consistent in virtually every city and can be reduced to just a few categories," according to the report. "Interestingly, the usual suspects — jobs, the economy and safety — are not among the top drivers. Rather, people consistently give higher ratings for elements that relate directly to their daily quality of life: an area's physical beauty, opportunities for socializing and a community's openness to all people.
"When a city is not a good place for older people, immigrants, racial and ethnic minorities, young adults without children and gay men and lesbians it is even a less welcoming place for 'young, talented college graduates.'"
Today, Tech Data, Florida Blue, CSX, Winn Dixie, C1 Bank, Wells Fargo, the University of North Florida, the University of Miami, PNC Bank, Moffitt, Citi, On Top of the World and Tropicana are among Florida's top employers and institutions that have joined the Equality Means Business Advisory board, and the list continues to grow (www.equalitymeansbusiness.org).
Smaller businesses let us know they wanted to be visibly on the side of equality, so we are launching in September a program called Another Business for Equality (www.AE4B.org) that focuses on small to mid-sized companies.
And importantly, the voices emerging from business are bipartisan. In fact, Republican business leaders have become the most outspoken supporters of local and statewide non-discrimination laws being updated to include sexual orientation and gender identity and expression.
Steve Halverson, CEO of Haskell Co., says the business case for the updating anti-discrimination protections is overwhelming.
"We are embarrassingly behind other communities for the lack of this kind of protection, and I'll add, I'm a dedicated Republican, so I would oppose any effort to make this political. It's about jobs, fairness and bringing Jacksonville into a nationally competitive posture."
The business community, with a focus on the bottom line, is miles ahead of the political leadership on the issues of diversity and has been for years. It is time for our non-discrimination laws to be updated statewide, and momentum is growing in Tallahassee to accomplish that thanks in large part to the growing voices of business leaders. People will go where they believe talent and hard work shape their destiny, not prejudice.
Florida can lead now or run to catch up later, but the bottom line remains: Equality means business.
Nadine Smith is the CEO of Equality Florida|Equality Florida Institute.
Posted: Friday, 07/04/14
Source: Yahoo! News
Written By: Hayley Fox
Jennifer and Michelle both apply for an administrative assistant position at Exxon Mobil in Illinois.
They went to the same high school and the same college, and they have a similar work history, though Jennifer got better grades and achieved management positions. Yet it's Michelle who gets the callback for an interview.
The only other real difference between the two is that Jennifer has a history of LGBT activism.
If you haven't already guessed, Jennifer and Michelle are the names on fake resumes that were submitted to eight different federal contractors as part of a recent study by the Equal Rights Center and Freedom to Work, an LGBT organization pushing for equality in the workplace. Although the applicants in the study are fictional, the results are very real: LGBT applicants were 23 percent less likely to get an interview than their less-qualified heterosexual counterparts.
"Despite significant progress in advancing civil rights and equality, employment discrimination remains a persistent barrier for the LGBT community," said Melvina Ford, executive director of the Equal Rights Center.
A pair of resumes was submitted for 100 different jobs at eight different federal contractors, including Exxon Mobil and General Electric Co. Seven of the selected companies have their own internal employment policies allowing for discrimination based on sexual orientation.
The study began in December 2012 after advocates were informed that President Barack Obama wouldn't be signing an executive order barring federal contractors from discriminating against prospective employees based on sexual orientation or identity. This "long-stalled" order was at the forefront of their minds when they decided to test how severe LGBT discrimination really was, said Tico Almeida, president and founder of Freedom to Work.
"As much progress as our LGBT community has made in freedom to marry, there's still a lot to be done to make sure our LGBT community has the freedom to work without discrimination," said Almeida.
The study lasted a year, ending in December 2013, and the results were released earlier this week. Although not every resume received a callback, the straight applicants received callbacks more often, even though they were much less qualified. The findings have already been shared with the White House and the Labor Department, Almeida said.
The results of the report come just a few weeks after Obama announced he would finally be moving forward with the federal contractor executive order.
Federal contractors employ about 20 percent of the total U.S. workforce, and a few key employers have been publicly criticized for refusing to protect LGBT workers. Exxon Mobil, for one, has repeatedly shot down proposals that would ban discrimination of LGBT employees.
"An executive order by President Obama would force Exxon Mobil to adopt LGBT workplace protections in order to continue profiting from hundreds of millions of dollars in taxpayer-funded contracts," said Almeida.
Workplace discrimination comes in many forms, experts say, from being passed over for promotions to receiving a lower salary, being unjustly fired, or being harassed. There is currently no federal law protecting LGBT workers from hiring and employment discrimination.
While some states have protective measures, it's still legal in 29 states to fire or refuse employment to a person based on sexual orientation.
Although Almeida is confident the president will sign the executive order this time around, he and many other LGBT advocates support more sweeping, comprehensive change.
This comes in the form of the Employment Non-Discrimination Act, a piece of legislation—with its own shortfalls—that passed the Senate last year but has petered out in the House.
LGBT supporters continue to raise money and lobby for ENDA, and Almeida's Freedom to Work has launched a concentrated campaign to target specific prospective ENDA supporters in the House. The 218 project, named for the magic number needed for majority support, will feature five House members a week and encourage voters to contact them voicing their support for antidiscrimination legislation.
Posted: Wednesday, 06/18/2014
Source: Alt-Daily
Written by: Kirsten Bokenkamp
Back in February, in a well-thought-out and moving opinion that explained marriage as a fundamental right deeply rooted in the nation's history, Federal Judge Arenda Wright Allen ruled Virginia's current ban on marriage unconstitutional.
Now, as we wait, cautiously optimistic, for the 4th Circuit Court of Appeals to hopefully uphold Wright Allen's ruling, thousands of gay and lesbian couples are even closer to having their love, commitment, and marriage recognized in the state they call home. With the freedom to marry, these couples – and their children – will finally be able to feel the security of marriage. Their commitment to one another will finally be validated under the law. Even if the ruling is stayed, meaning couples will not be able to get married here at home until the U.S. Supreme Court decides the issue, this ruling, if a positive one, will be a tremendous step in the right direction – and should be celebrated.
The hope of marriage equality is in the air, but we must not forget that, even once we have gained the freedom to marry, Virginia still has a long way to go before we achieve true equality for lesbian, gay, bisexual, and transgender Virginians. One major barrier to LGBT equality is workplace discrimination.
Virginia has no law that prohibits employers from firing, or not hiring, somebody based on that person's actual or perceived sexual orientation or gender identity. That's right: you can be fired in Virginia for being gay, or even if your boss thinks you are gay. Ironically, gays and lesbians may soon be able to get married in Virginia, and then subsequently be fired when they put a wedding photo on their desk. Some argue that it doesn't happen in practice. However, it's estimated that nationally 8-17 percent of lesbian, gay, and bisexual people have reported not being hired, or being fired for these reasons; transgender individuals experience these on a much higher basis. That is simply not right.
Employees should be treated based on how well they do their jobs and nobody should be fired because of who they are. Putting a law in place to protect Virginia's LGBT employees is not only the right thing to do, it would also benefit Virginia as a whole by allowing the commonwealth to recruit and retain talented employees who would be instrumental in maintaining a strong economy. Research shows that both marriage equality and laws to protect LGBT employees would contribute to a more prosperous economy.
Virginians and businesses already support equal treatment under the law. Nearly 75 percent of Virginians support a law to protect LGBT people from workplace discrimination and 91 percent of Fortune 500 companies have sexual orientation non-discrimination policies. It is time for our laws to reflect what Virginia's residents and our business community already know. One way that business leaders are speaking up is by joining Virginia Fairness, a group of employers who respect and value the diversity of their customers and employees.
As we celebrate how far we've come in the world of marriage equality, we must not forget how important it is to ensure our laws protect LGBT individuals not only in their homes, but also at their place of work.
Are you a business owner who believes in workplace fairness? Join Virginia Fairness today.